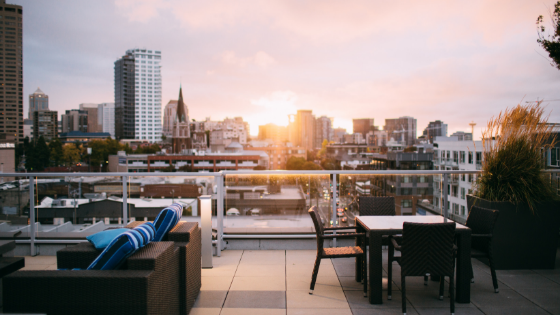 If you have access to a roof deck, it may be the perfect venue for hosting a dinner with your family or friends. If you have never planned a roof deck dinner, here are a few tips that can help to ensure your dinner is perfect.
Select Simple Decor
The roof deck itself, as well as the view it provides, is typically what sets the ambiance and tone for the evening. You do not have to plan on decorating much for a rooftop meal. If you do enjoy decorating though, select simple decor that compliments the view from the rooftop. Use the scenery and colors that are prevalent from the top of the roof as your color palette when selecting plates and napkins. You can always bring in flowers or shrubs to add color as well.
Plan Out Your Meal
The next important element of planning the perfect roof deck dinner is to plan out your meal. As you plan out your meal, keep in mind that you will not have a kitchen on-hand when you are on the roof. As such, you want to select items that you can easily carry from your kitchen to the roof deck and leave out, without having to keep them hot. The same holds true for your dessert options. You may not have a fridge on the roof, so you want to select something, such as a cake or pie, that does not need to be kept cold or frozen.
Find Out What Time the Sun Sets
Finally, take the time to research what time the sun sets in your area. Then coordinate the mealtime so that your guests can take in the spectacular views around them from your roof deck and so that they can see the beautiful sight of the sun setting for the evening as they enjoy wonderful food with friends and family.
Do you love hosting friends and family for a rooftop meal? Are you looking for apartments in Chicago, IL that offers a roof deck? Here at The Belden-Stratford, we offer a beautiful roof deck for all of our residents that includes grilling stations, lounging areas, fire pits and beautiful panoramic views of the Chicago waterfront. Visit us today to view our apartment homes and roof deck.